What Is a Smart City
Smart city definitions are numerous ranging from those that focus exclusively on the infrastructure, to those that focus more on enabling citizens and communities to act smarter.
While no one definition suits all cities, this definition from the ITU describes smart cities globally:
A smart sustainable city is an innovative city that uses information and communication technologies (ICTs) and other means to improve the quality of life, efficiency of urban operation and services, and competitiveness, while ensuring that it meets the needs of present and future generations with respect to economic, social and environmental aspects.
This definition emphasizes that a smart city is not just a city that leverages new technologies, but is a complex ecosystem made up of many stakeholders including citizens, city authorities, local companies and industry, and community groups. It should be emphasized that the geographical boundaries of what is called a smart city may be wider than the city itself, gathering multiple governance bodies and municipalities to define services at the metropolitan or regional scale. See the full report from the IEEE on smart city trends.
CONNECT PROVIDES SMART CITY CAPABILITY
The Connect access point (AP) will offer all of the functionality required for operating and managing a smart city. The high capacity and low latency allow the AP to handle a multiplicity of concurrent users and bandwidth-intensive multimedia applications. With uninterrupted service on a citywide basis, connectivity can be used for online education, telemedical solutions, & emergency alert services.
Rural Canadian communities will benefit from a more ubiquitous connectivity solution. Here are some of the smart city benefits:
BUILDING MANAGEMENT
Automated and optimized building services like heating, energy usage, lighting, and ventilation can save city governments billions annually
OPTIMIZED ENERGY
Smart energy systems gather energy usage data and help cut energy costs by reducing power consumption
GEOTARGETING CAPABILITIES
User-friendly content can be delivered to a Wi-Fi enabled device based on location to promote local activities or sales at
nearby businesses
TRAFFIC MONITORING
Real-time data can detect traffic jams and help optimize transportation routes by coordinating traffic light sequences and diverting traffic according to conditions
SMART PARKING
Parking detectors can provide information about available parking spaces, saving time and helping prevent traffic congestion
FLEET TRACKING
Information about police or waste management vehicles allows officials to monitor locations and fuel usage in real time
WATER MONITORING
IoT water systems measure pressure, level, flow, and chemical content to monitor water quality and prevent water waste
POLLUTION DETECTION
Smart systems can detect and monitor chemical seepage, CO2 emissions, and gas levels to help mitigate health issues
SMART LIGHTING
Weather-adaptive and motion-sensitive streetlights can dim or brighten based on present conditions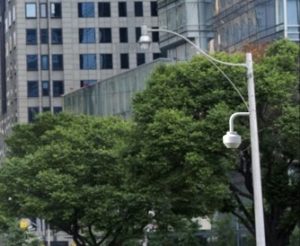 REAL-TIME UPDATES
Digital signage can be changed instantly to update citizens with important information and kiosks can provide access to maps and emergency services
ENHANCED SECURITY
CCTV's and alarms can control access to and monitor restricted areas, while artificial intelligence (AI) can perform city-wide risk and threat analyses
PUBLIC WI-FI
Internet access can help fuel job searches and research papers, as well as provide tourists with more information about the city